Dear Parents,
Regina Coeli Catholic Primary School is a beautiful, community-minded school located in a quiet but centrally located part of Beverly Hills. We provide a high-quality, contemporary Catholic education catering for the diverse learning needs of all our students, and are committed to the development of each child: academically, spiritually, emotionally, physically, socially and emotionally.
We firmly believe in the importance of providing each child with foundational Literacy and Numeracy skills, but also recognise the importance of teaching 21st century learning skills: the ability to think creatively, to communicate effectively (including the use of digital technology), to problem solve, and to work collaboratively with others.
The school proudly teaches Catholic values that enable students to develop into young people ready to make a positive contribution to our world. Our values are founded on those taught and lived by Jesus, and underpinned by our school motto 'Faith, love and learning'.
Our school charism is inspired by St Mary of the Cross MacKillop, whose Sisters established the school in 1947. Her motto 'Never see a need without doing something about it' is something we strive to enliven in the way we respond to the needs of others we encounter.
This year, Sydney Catholic Schools embarked on a major capital works project at the school, providing our community with state of the art 21st century learning facilities. The next two years will be a very exciting time in the history of our school.
I look forward to the opportunity to meet you and your child, and hopefully have your family join our school community.
In this unprecedented period where we face many challenges in dealing with a global pandemic, I hope you remain faithful, hopeful and well.
Mr Chris Egan
Principal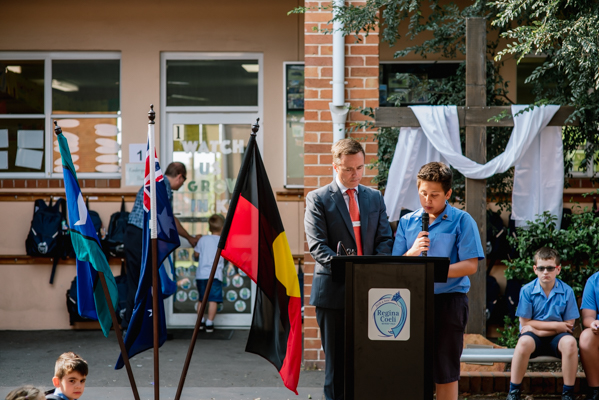 Proudly Part of the Community of Sydney Catholic Schools
Our school is part of a system of over 150 low-fee Catholic schools in the Sydney Archdiocese.
Sydney Catholic Schools are thriving Catholic communities that ignite a love of Christ through excellent teaching and learning to empower students to reach their full potential.