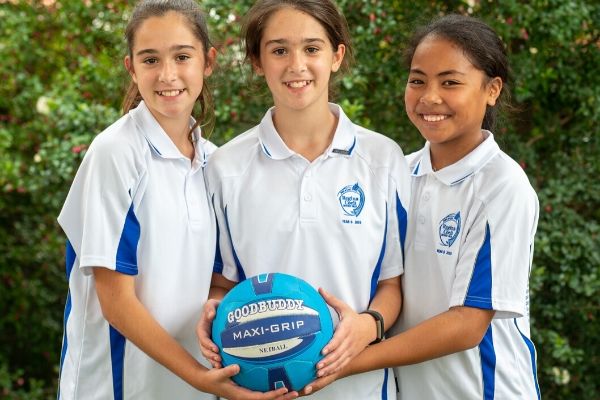 Regina Coeli Catholic Primary School students will court success in their favourite sport after joining the St George District Netball Association under 12's representative team.
Twins Alexia and Madelyn Giannakis and classmate Esther Kami, all in Year 6 at the Beverley Hills school, have honed their on-court skills over the past six years. Their selection to the representative side means they will play four carnivals, each with seven half-games, in addition to their commitment to their regular club.
"Working as a team together is a very happy feeling." – Esther Kami
Esther said the trio are comfortable with early-morning starts on the weekend and extra training.
"We've got two days of training, and for carnivals we wake up at 6am," she said. "We play on Saturday for our club, and after we play for our club we play for St George which is from all the clubs combined."
Alexia, a defender, said it was nice to win, but being part of the St George team brought other feelings of success. "It's really cool," she said. "I feel like I can do anything."
Madelyn, goal keeper and wing attack, said the team dynamic was one of the best things about playing netball. "You get really excited, but nervous, when you step onto the court," she said.
Esther, who plays goal and wing defense, agreed. "The feeling when you're playing with your friends and working as a team together is a very happy feeling," she said.