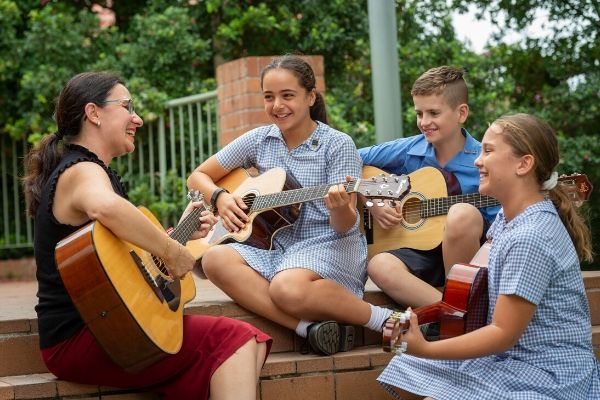 Regina Coeli Catholic Primary School Beverley Hills' parents don't need to pay for outside tuition for their children to reap the benefits of a music education.
The school introduced a dedicated music program in 2016, which teaches students how to read musical notation and play a variety of chords and songs.
Students in Years 5 and 6 learn guitar, Years 2 to 4 learn the recorder and Kindergarten and Year 1 students focus on percussion. The curriculum is supported by other opportunities including a band program for students in Years 3 to 6 and annual whole school performance.
It has opened up a world of opportunity.
Music and Visual Arts teacher Grace Campanaro said the program allowed students to broaden their musical knowledge and boost key memory, social and listening skills.
About two-thirds of students in the guitar program do not receive music tuition outside of school.
"An acoustic guitar is easy for children to bring to school and not too expensive to have," she said.
"The students learn a variety of songs from different eras in the lessons including modern day and old-fashioned rock 'n' roll songs. I try to broaden their knowledge of musical content because they're mostly familiar with what they know and hear on the radio.